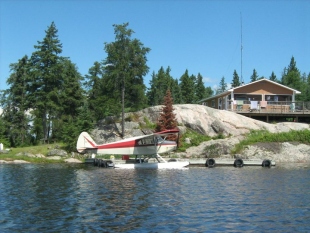 Boarding a seaplane in Nestor Falls, we will fly you into one of our secluded Northwest Ontario fly-in outposts. Each fly-in lake offers excellent fishing for Walleye, Smallmouth Bass, Northern Pike, Lake Trout and Muskie. Some of our fly-in outposts have short portages to other lakes as well, for you to explore for more fishing action and wilderness scenery… these Trophy Waters can't be beat for unlimited fishing opportunities. Due to ongoing conservation practices over the years, our lakes continually produce an abundance of high quality fisheries.
All of our fly-in outpost cabins are built with comfort in mind. Each two or three bedroom cabin has tongue and groove pine throughout, fully equipped modern kitchen facilities which include full-size stoves and ovens, electric refrigerators and freezers, hot and cold running water with hot showers, emergency satellite phone communication, generator, electric lighting, and screened porches with gas barbeques and propane deep fryers. We also run new Yamaha motors on 14 or 16-foot Lund boats outfitted with raised swivel seats for your fishing comfort. Life jackets, bait buckets, landing nets, boat cushions and paddles are just some of the items already provided so you don't have to carry extra gear in with you.
Fly-In Outposts Package
For those guests who fly here on commercial air carriers, we can supply a linen package and also pick up groceries for you ahead of time and will have it at dock the morning you are scheduled to fly out with us.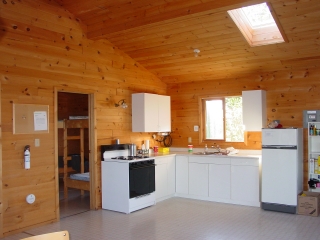 Although remote, you're not alone. We have communications with the outpost for emergencies.
This really is a wonderful Canadian fly-in fishing holiday, whether you're an avid fisherman, or just want to get away and relax for awhile enjoying the great Canadian outdoors with family and friends.
Please call or E-mail us anytime if you would like additional information or references. We will be happy to answer any of your questions.
Our Outpost Cabins & Lodges