Moose Point Lodge (Only Cabin on the Lake)
Canada fly-in Fishing at Brown Bear Lake
Trophy Smallmouth Bass fishing, Northern Pike, Lake Trout and Walleye Fishing
Canada fly-in fishing at Brown Bear lake outpost in NW Ontario is considered to be one of the best Smallmouth Bass Fishing lakes in the northwest region. The Smallmouth Bass fishing in this lake average 2 to 3 pounds. Large four pound fish are common in this lake. Every year there are trophy wall-hangers (5 to 6 lb) caught and released. Now you would think that would be enough to keep you busy, but we have got more.
Midway Lake Portage – Canada fly-in Fishing
Portages! Three of them! The first is a 4 minute walk from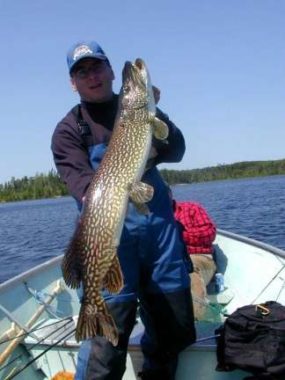 Brown Bear Lake to the back waters of Midway Lake
where three boats and motors are waiting for you. You carry only your fishing rod, and maybe your shore lunch for the day. By boat, you can travel from Midway Lake West to Midway Lake East through a scenic remote waterway about 5 miles long for some more great fly-in fishing action.
Both of the Midway lakes have loads of Smallmouth Bass and fast action Northern Pike fishing to keep you satisfied. Many of our guests report moose sightings in this area.
Beauty Lake Portage – Canada fly-in Fishing
The second portage from Midway Lake to Beauty Lake is about a four minute walk. Beauty Lake is our fighting Lake Trout fishing destination. Beauty lake has some of the best Smallmouth Bass fishing and northern pike fishing that you will ever try.
Robin Lake Portage – Canada fly-in Fishing
From here, we have one more portage lake for the devoted Walleye fisherman. The trail is located at the northwest end of Beauty Lake and it is not for the weak-hearted. We've marked it with flagging tape. It will take about 15 minutes to cross an old logging cut. This secluded little lake is full of fighting walleye and northern pike. We have a boat, motor and fuel there for you to use. you'll just bring your fishing gear and a lunch.
Brown Bear Lake Outpost Cabin – Canada fly-in Fishing
Moose Point Lodge in the heart of Northwest Ontario is a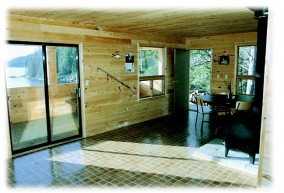 deluxe, 3-bedroom Canada fly-in fishing outpost and has over one thousand square feet of living space, capable of comfortably accommodating large groups of fishermen with a minimum of six guests for the month of June. This fly-in outpost fishing camp is located high on a point with a panoramic view, on a quiet bay in the heart of Brown Bear Lake. The outpost cabin is private and remote and has all the conveniences of home with complete kitchen facilities, hot and cold running water, hot showers, and a large screened-in porch overlooking the lake. All boats are 16-foot Lunds with raised swivel seats and new Yamaha motors. This is an excellent fly-in fishing outpost for large groups, with lots of water and excellent angling throughout the season.
For other great Canada Fly-in Smallmouth Bass fishing action check out our other fly-in outposts at
Norse Lake Outpost , Treelined Lake Outpost , Unexpected Lake Outpost
The fly-in bear hunting trips are done from Brown Bear lake outpost. Check out GoBearHunt.com for more information.