Canada Fly-in Fishing for Trophy Walleye, Smallmouth Bass, Northern Pike, Muskie and Lake Trout, on wilderness lakes in Northwest Ontario.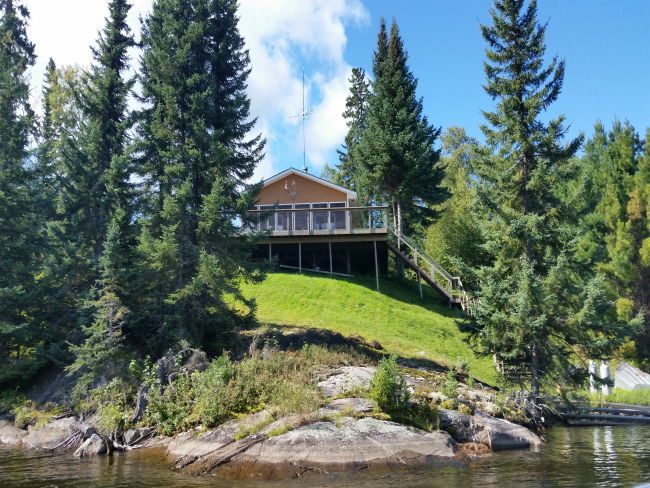 Canada fly-in fishing is our specialty at Canada Outfitters. Our air base is located just north of Nestor Falls, Ontario and is a short commute from International Falls, MN airport or Winnipeg International Airport. With a convenient van service that will pick you up, you can
spend more time fishing than travelling
.
We've thought of everything to make your Canada fly-in fishing trip relaxing and enjoyable, even if you're coming from either coast or somewhere in between.
Here at Canada Outfitters, we have five different Canada fly-in fishing outposts to choose from. Each of our Canada fly-in fishing outposts offers something a little different from each other. We have excellent walleye fishing at Unexpected lake. There is great smallmouth bass fishing at Treelined and Brown Bear lakes. Gordie and Norse lakes have awesome northern pike fishing. We also have excellent Lake trout fishing on the portage lake within the Brown Bear system. We've got you covered. Please give us a call to book your next Ontario fly in fishing experience.
These Canadian fly-in fishing outpost cabins range from a two bedroom, very cozy outpost cabin that sleeps two to six, up to a three bedroom fly in outpost cabin that accommodates up to twelve people we have something for every sized group imaginable. All our fly-in outpost cabins are situated on prime, secluded lakes with panoramic views of the lake they're on. We'll fly you and your group from our seaplane base on Crow lake, north of Nestor Falls, to the outpost and get you set up for your fishing trip.
Check out the outpost links below to see our cabins and what each of the lakes offers.
Brown Bear Lake fly-in Outpost
Canada Fly-in Fishing at Brown Bear Lake Outpost Your group can catch a variety of species from Walleye, Northern Pike, Smallmouth Bass and Lake Trout in one of the portage lakes. We have four portage lakes with this Ontario fly-in fishing outpost excursion.
Gordie Lake fly-in Outpost
Outpost Fishing at Gordie Lake Outpost gives you the opportunity to do some awesome Northern Pike Fishing with a little Walleye mixed in. This is our newest fly-in cabin and has south views of the lake.
Norse Lake fly-in Outpost
Fishing at Norse Lake Fly-in Outpost will give you a good chance to hook on to some great Walleye, Northern Pike and Smallmouth Bass. "Little Norse" is a portage lake that has produced some great fishing. Norse Lake outpost is a two bedroom cabin that sleeps up to six guests.
Treelined Lake fly-in Outpost
Treelined Lake Fly-in Outpost is on a clear, deep, aquamarine- coloured fly-in lake and offers outstanding Northern Pike fishing as well as some of the best Smallmouth Bass fishing in all of Northwest Ontario, Canada. The lake is located in the Trophy Waters Area of Northwest Ontario. This outpost cabin is on a large peninsula, surrounded by water. The view looking mostly east is breathtaking! That's the only way to describe it.
Unexpected Lake fly-in Outpost
Our Unexpected Lake Outpost is on the world famous English River System and has really great Canada fly-in fishing all year long for Walleye, Northern Pike, Smallmouth Bass and Muskellunge (Muskie). We've had pike caught & released 44″ plus and Muskies in the same and bigger range. Unexpected lake cabin is our oldest cabin. This outpost cabin offers the comforts of home with a screened in porch, two bedrooms and large kitchen.
If you're looking for the best overall fly-in experience, please contact Canada Outfitters to book your fly in fishing adventure.
Check out our Facebook page at https://www.facebook.com/CanadaOutfitters/