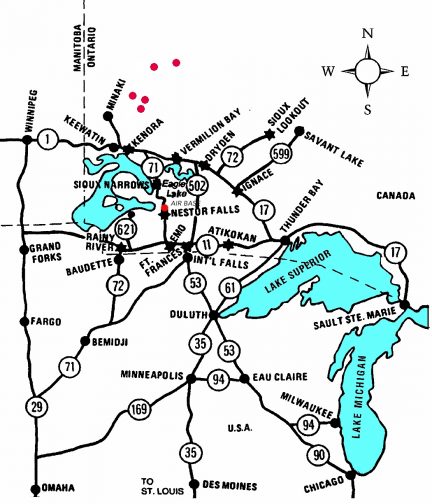 These are the directions to our Northwest Ontario fly-in fishing seaplane base in Nestor Falls. Nothing beats a summer getaway at one of our remote outposts. Problem is, some of you spend the better part of two days or more on the road just getting here and back again.
Problem solved . . . For guests wishing to save travel time, you can now fly directly to Winnipeg, Manitoba or International Falls, Minnesota through Minneapolis. From Winnipeg we are 3-1/2 hours away and International Falls we are 1-1/2 hours away. Many of our guests rent a vehicle or use a van service for the last leg of their trip to Nestor Falls. All flights to our fly-in outposts are scheduled for an early morning departure daily. Guests flying into our area via commericial air carrier or private plane should arrive the day before their scheduled fly-in outpost trip.
For current flight information and any other travel arrangements (hotel, rental car, van service), please call Prelude Travel at 1-800-561-8907 or 1-807-468-1928. Be sure to ask about the special "Fisherman's Fare". Each year Delta Airlines offers discounted fares to Winnipeg, Manitoba and International Falls, Minnesota from all areas of the U.S. to clients visiting our region for fishing and hunting purposes. These fares, however, are only available through a few specifically authorized travel agencies.
For those who drive, travel to International Falls, Minnesota. Clear customs at Fort Frances, Ontario. Take Hwy. 71 north 40.7 miles and turn right to air base on Crow Lake.
Here's a link to map of our Crow Lake Air Base, 12 kms north of Nestor Falls https://www.google.com/maps/place/Canada+Outfitters/@49.2056009,-93.9575707,17z/data=!3m1!4b1!4m5!3m4!1s0x52be0882669abfb5:0x9c2fbf0b151d3f4a!8m2!3d49.2055974!4d-93.9553767
Please visit our Rates Page for what to bring for your fly-in fishing trip.
LINKS
Mr. Fish Taxidermy – Excellent Taxidermist in Hazelridge, Manitoba providing top quality mounts
Fishing Ontario – Information about fishing in Ontario
In Focus Taxidermy – Quality taxidermist located in Wisconsin
Ontario Sunset Country Travel Association
Guests with a DUI and/or other convictions should check to see if they will be allowed entry before booking your trip http://www.cic.gc.ca/english/information/applications/guides/5312ETOC.asp you can also call the Canadian Consulate in New York or Los Angeles for information